Creative Marketplace


Welcome to my creative marketplace ! I've gathered here all my creations realized over the years, from publishing posters to advertisements.

Bienvenue sur mon marché aux créations ! J'ai regroupé ici toutes mes créations réalisées au cours des années passant par des affiches d'éditions, des publicités, etc.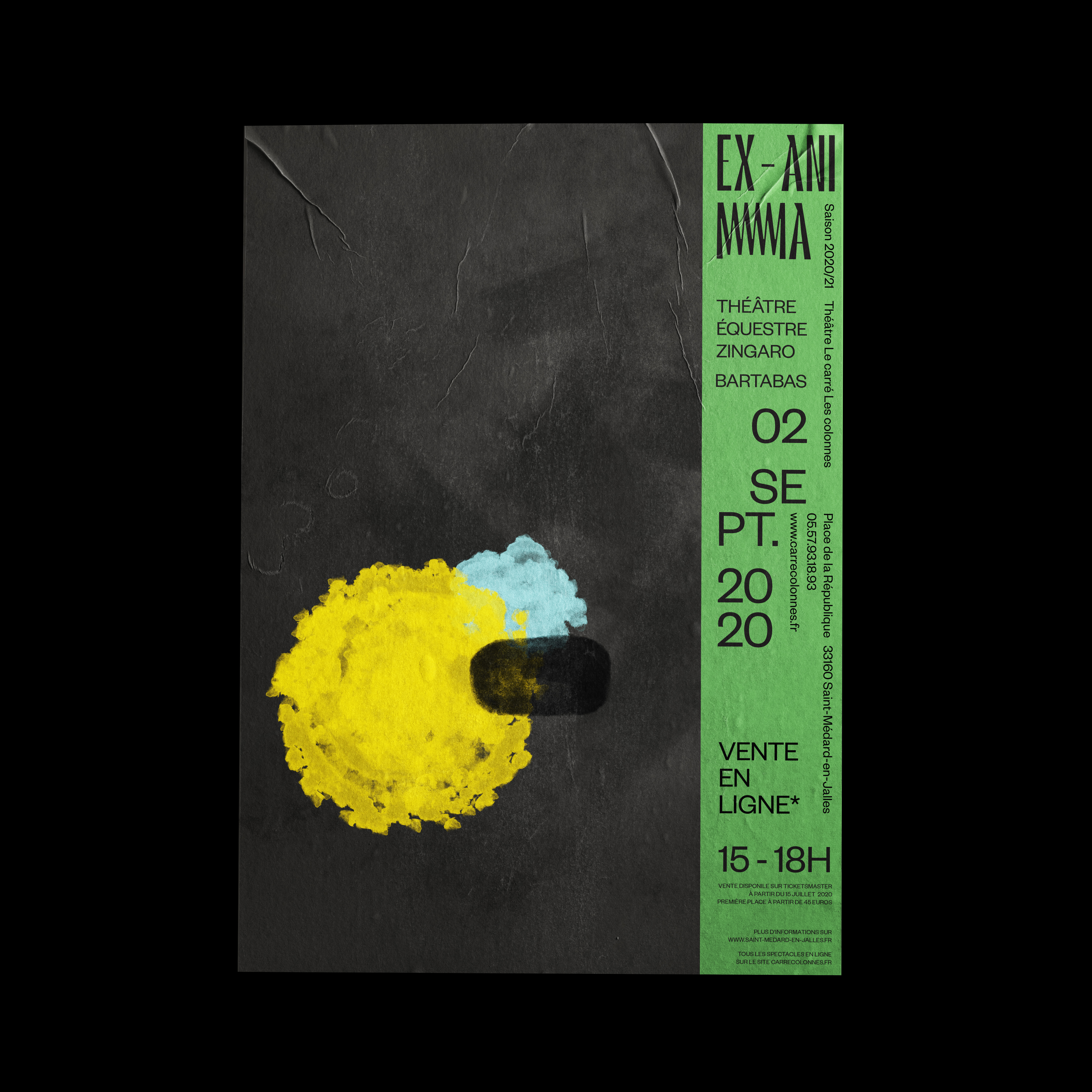 Décloisonnement
Considered as a new national stage, Le Carré Les colonnes theater requested a new identity for their posters. Located near Bordeaux, it quickly became an unvoidable place for performing arts.
By compartmentalizing information, the aim of the graphic system is to unleash creativity. The margin becomes the only information area, the objective being to devote as much space as possible to the performance on the poster.
Considéré comme une nouvelle scène nationale, le théâtre Le Carré Les colonnes a demandé une nouvelle identité pour ses affiches. Situé près de Bordeaux, il est devenu rapidement un lieu incontournable des arts de la scène. En compartimentant l'information, le système graphique vise à libérer la créativité. La marge devient le seul espace d'information, l'objectif étant de consacrer le plus d'espace possible à la représentation plastique de chaque spectacle.

Typography.........Founders Grotesk, Langulaire, Houdini, Le Murmure
Field..............Edition
Volkswagen GTI
With its GTI range, Volkswagen is looking to seduce speed enthusiasts. Far from the clientele of luxury brands, it's a completely different market than the targeted brand. With more reasonable prices, Volkswagen wants to appeal to everyone, men, women, young and old, with small or large salaries. With this advertising campaign, the goal is to show the face of someone ordinary, with whom one could identify. The concept was simple: to show the power of the engine during acceleration through the reaction of the face.
Avec sa gamme GTI, Volkswagen cherche à séduire les amateurs de vitesse. Loin de la clientèle des marques de luxe, c'est un tout autre marché que la marque cible. Avec des prix plus raisonnables, Volkswagen veut plaire à tous, homme, femme, jeune, âgé, avec de petits ou gros salaires. Avec cette campagne publicitaire, le but est de montrer le visage de quelqu'un d'ordinaire, à qui l'on pourrait s'identifier. Le concept était simple : montrer la puissance du moteur lors de l'accélération grâce à la réaction du visage.
Typography.........Futura
Field..............Advertising
Adidas is all in
Based on Adidas know-how and the power it has in football, the concept was to show the impact and strength of the 3 emblematic stripes of the logo. The illustration showing a shoe with the fabric threads.
Se basant sur le savoir-faire d'Adidas et la puissance qu'elle a dans le football, le concept était de montrer l'impact et la force des 3 bandes emblématiques du logo. L'illustration montrant une chaussure avec les fils de tissus.
Field..............Advertising
Otl Aicher's exhibition at MoMA
This poster is a tribute to the work done by Otl Aicher. It uses his graphic style as well as the colors used for the 1972 Munich Olympic Games.
Cette affiche est un hommage au travail fait par Otl Aicher. Elle reprend son style graphique ainsi que les couleurs utilisées pour les Jeux olympiques de Munich en 1972.
Typography.........Rotis
Field..............Edition